Things to do whilst staying at the Lansbury Heritage Hotel
creative33
We're situated in the heart of the nation's capital, and with more to see and do than you could in one lifetime in London, you'd might be surprised to find out just how many points of interest we have right on our doorstep.
Whilst you are staying with us, there are a multitude of sights and attractions to keep you entertained, all of which do not require 6 underground line changes, meaning you can maximise your day without a long travel time.
Arts and Culture
5 minutes from Poplar Road High Street, Canary Wharf is typically recognised as a bustling centre for commerce.
But did you know that it is also a hub for artistic and sculptural works? The Canary Wharf Group have done a fantastic job at meticulously cataloguing their collection of works dotted around this historic part of London, and we thoroughly suggest taking a look at their website and downloadable guides.
For the art lovers out there, here are just a few notable examples we are particularly fond of, from the many sculptural and installations that inhabit Canary Wharf and the surrounding area: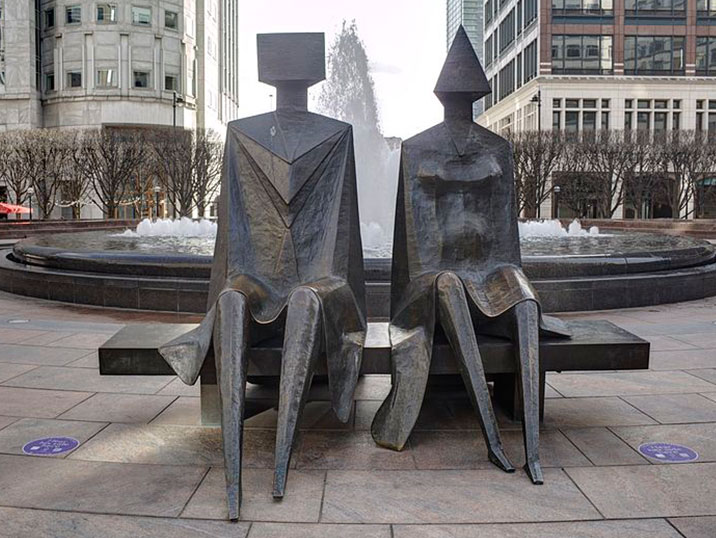 LYNN CHADWICK – Couple on Seat
After World War II, Lynn Chadwick began a career in sculpture. Couple on a Seat is one of his later works and encapsulates the transient moment of rest between two individuals. Both imposing and enigmatic, a must-visit for art lovers and couples alike.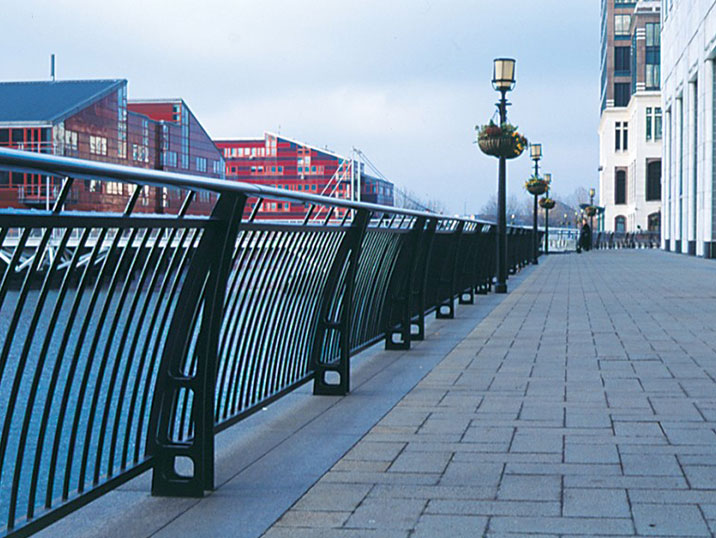 JAMES HORROBIN & SOM – Promenade Railings
We know what you're thinking… Understated and hidden in plain sight – you'll have seen them in a film or two without realising – one might at first glance, not consider the architectural value of The Promenade Railings.
Conceived by Horrobin to line the entire perimeter of the docks and designed with a gentle sweeping bow, echoing the sails on a sailing boat.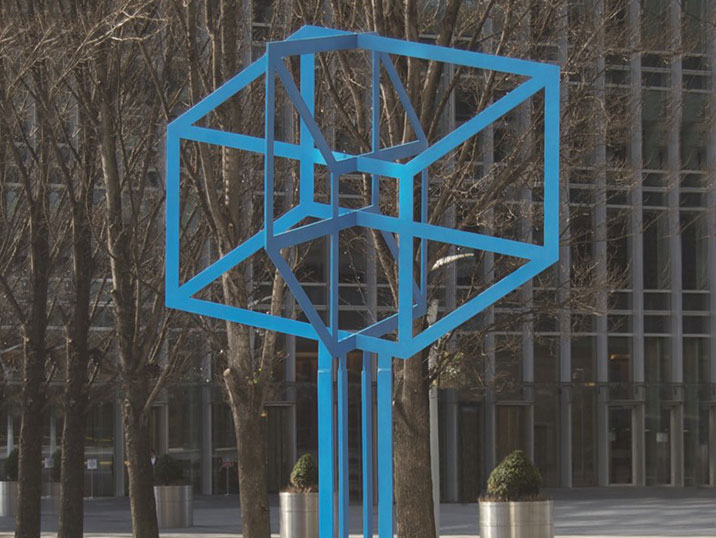 SURESH DUTT – Drawing Cube (Blue)
For fans of a more contemporary style, head down to Montgomery Square, where you will find Drawing Cube (Blue), by Suresh Dutt.
Dutt was the winner of the First@108 Public Art Award by the Royal British Society of Sculptors, who provide opportunities for artists to create large-scale sculptures. Drawing Cube (Blue) has now been added to Canary Wharf's permanent collection.
Things To Do and See
Hop over the road and seek out the Crossrail Place Roof Garden (15 min walk), which is open daily until 9pm or sunset in the Summer and immerse yourself in a paradoxical pocket Eden in the middle of Metropolis.
The roof garden is a stunning collection of exotic plants, hidden pathways, created with an East to West horticultural motif as you travel through it.
In addition to this, it also houses an 80-seat performance space with regular productions that are not to be missed.
We have several phenomenal locations to visit, dependant on the weather and the occasion, such as Canada Park Square and Jubilee Park (both 7 mins taxi).
In addition, there is also the Museum of London Docklands; we are just one stop away from the O2 Arena (Canary Wharf – North Greenwich Station)and perhaps most surprisingly, 8 minutes from Mudchute Park and Farm, home to rare breeds, show ponies and a petting zoo, all under the backdrop of Canary Wharf no less! One for the kids.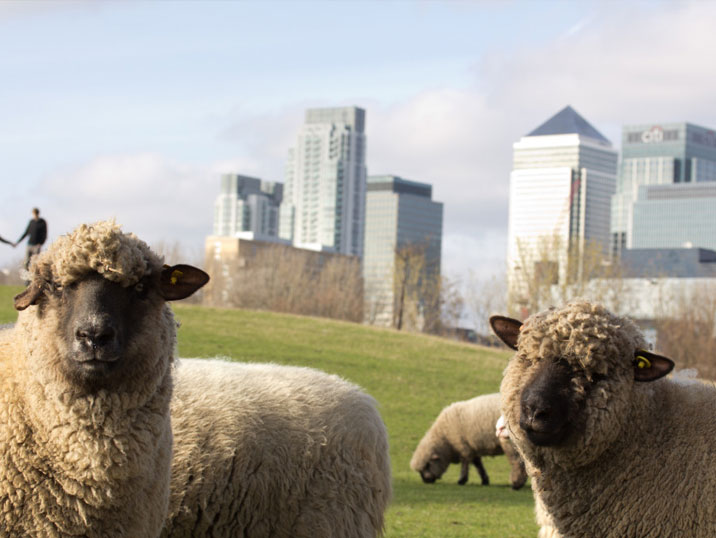 Getting to the Rest of the City
If you are planning on stretching out further afield, we have a number of rail options to get you to your destination promptly, including the Poplar Tram (4 mins walk from the hotel) as well as All Saints and Blackwell stops.
Also minutes away is the centrally located Canary Wharf, Jubilee Line Station, that will take you rapidly to any location in London – the Jubilee is the only line to connect effectively to all other London underground lines, so getting anywhere fast is easy!
Destinations and Times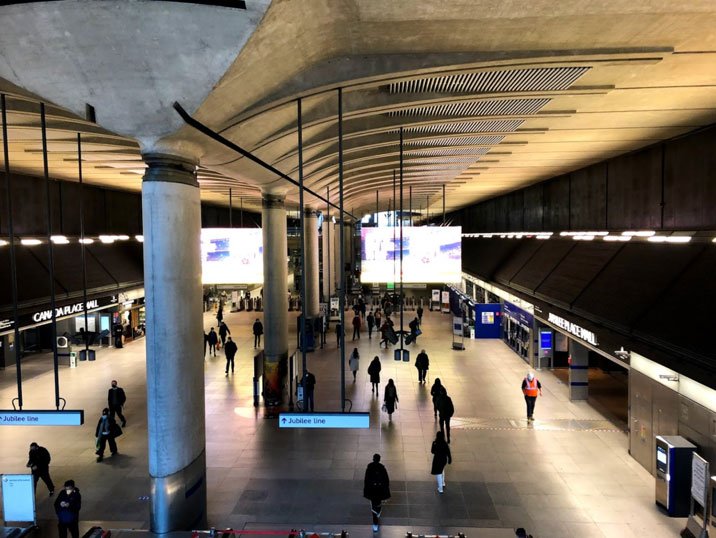 London is MASSIVE, but as mentioned above, the Jubilee Line will connect you to almost all of London in relatively little time, so here is a quick breakdown of what to expect when planning your visits:
Trafalgar Square: 34mins
Piccadilly Circus (Theatre District): 35mins
Buckingham Palace: 37mins
South Kensington (Museum District): 48mins
Westminster: 38mins
Borough Market: 25mins
Camden Town: 35mins
V&A Museum of Childhood: 25mins
Tower of London: 32mins
For further information on these or any other enquires, our team is on hand prior to and during your stay, so don't hesitate to ask!
As always, if you have any questions before your visit, you can email us at info@lansburyhotel.com or simply give us a call on 0203 489 5050.